Celebrating Employee Appreciation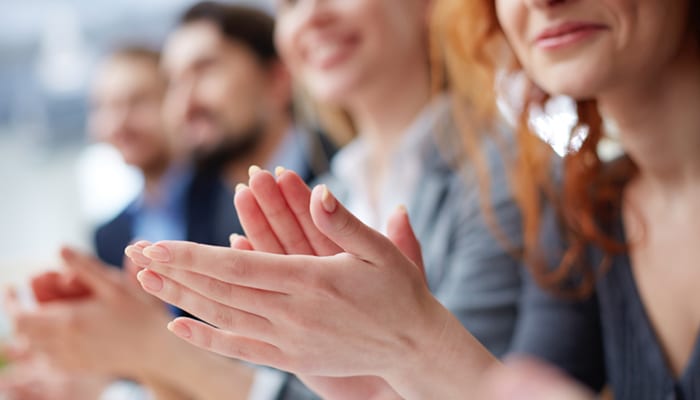 Employee Appreciation Day is celebrated on March 1st. It's an opportunity to consider how well employee appreciation is celebrated on a day-to-day basis. The day also poses a related question: 'Is employee appreciation part of company culture?'
Employee appreciation cannot be taken for granted
These are considerations worth revisiting each year. As organisations grow, a founder's ethos and the culture that was once so attractive become more diluted. Rather than joining a great place to work, employees join an organisation to do a job. This can build a silo mentality. Being a part of something bigger can too easily be lost. The knock-on effect? Employees come to work at 8 am do a series of tasks, then go home at 5 pm.  They are tools, used by the company to do a job. What happens next? Levels of appreciation decrease, which leaves an increasingly unhappy, less productive workforce. How can this be challenged and by whom?
The task of the good leader: building happy, appreciated, productive employees
In a report prepared by
Robert Half,
the good leader clearly understands the motivational effects of happiness and appreciation at work. She also understands how they are directly linked to productivity and profitability. As Phil Sheridan MD comments: Happy employees tend to be more engaged, loyal, creative and productive than their less-satisfied counterparts. Creating a positive culture that engages employees, boosts satisfaction levels, enables companies to remain competitive and directly impacts the bottom line.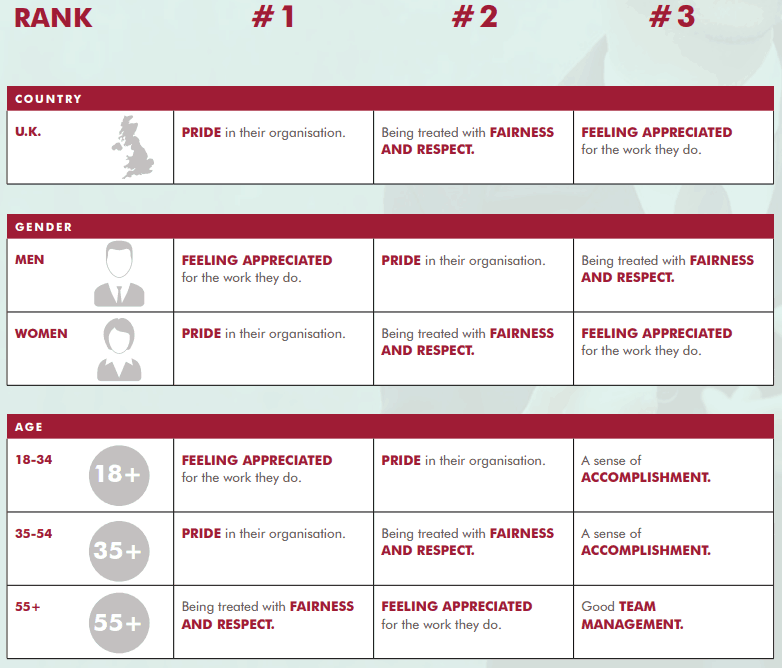 Appreciation drives happiness
The report identifies that feeling appreciated is one of the top drivers of happiness. Appreciation is particularly important to younger employees and is the strongest driver of happiness for the under 35's males. Feeling appreciated is also ranks second for men over 55 years of age, who also appreciate good team management. Feeling appreciated at work leads to happier employees.
Treating women with fairness and respect
The research also reveals that women want to feel proud of their organisation. In addition, women over 35 years of age, rank being treated with fairness and respect at work as their number one priority. Fairer employment practices for woman have begun to address these issues, which will build stronger female recruitment, retention and productivity. In
New Zealand
, the government tackled these issues head-on. It produced resources to coach HR professionals and managers about the fair and respectful operation of an organisation's policies and practices. When every company policy and practice is exercised with fairness and respect, this leads to a greater sense of happiness. In turn, this leads to greater levels of employee appreciation for women.
Build appreciation by simple interventions for greater productivity
Building a sense of appreciation at work can be brought about using simple interventions. For example, researchers at the 
Wharton School of Business
randomly divided a large group of telesales operatives employed in university fundraising into two groups. One group made phone calls to request alumni donations. The second group received a speech from the fundraising director, thanking them for their efforts before making those calls. By the end of the following week, the employees who heard the director's message of appreciation made 50% more fundraising calls than those who didn't.
Employee Appreciation Day: a wonderful opportunity
A little bit of thanks goes a long way in making employees feel appreciated. Well-aimed appreciation motivates them to work smarter, harder and to be more productive. A simple step such as a manager giving his team a message of appreciation is a great starting point when celebrating Employee Appreciation Day.