Guide to Eco-Friendly & Sustainable Promotional Products
What are sustainable promotional products? 
Sustainable promotional products are designed to reduce any negative impact to the environment, through their manufacture or their use. The promotional merchandise industry promotes sustainable, recycled and reusable materials. With innovations such as fully biodegradable plastics and FSC sourced packaging, the move to a sustainable future is well underway. 
Eco-friendly and sustainable promotional products elevate your brand and also showcase your culture and how you can change attitudes. Sustainable promotional products replace disposable products with reusable ones. This helps to reduce your carbon footprint, promote sustainable choices while promoting your brand and message. At Gift Innovations, we offer a large range of sustainable promotional gifts made from environmentally friendly materials.
Here's a quick guide to better understanding the range of eco-friendly materials used in manufacturing your promotional products. 
Bamboo
Bamboo is 100% natural and biodegradable. Bamboo is one of the fastest-growing plants because it's a grass, and can replenish itself within a year. Most importantly, it has minimum water needs and does not require additional artificial fertilisers. Bamboo is a very renewable resource; it is strong and durable and there are more than one thousand varieties across the globe. The bamboo phone stand is one of our favourite eco-friendly promotional products. 
Circular Design
Circular&Co have embraced the Circular Design Philosophy, which is to protect the environment. To stop waste from harming our ocean and polluting the planet, they are giving single-use a second chance. They extend the life of waste material by using them to create products, which they design to last as long as possible. At the end of their lives, their products are recyclable so that the cycle can continue. The Circular&Co reusable coffee cups are among the most popular branded sustainable products available.
Recycled Leather
A sustainable leather alternative made from unused leather that would otherwise go to landfill. ELeather has an excellent deboss quality and is made in the UK for a low carbon footprint. This material has a soft feel and a leather grain it is ideal for deboss, foil blocked or digitally printed branding. Sustainable promotional gifts include notebooks, key fobs and card cases made from recycled leather.
Plant PLA
Polylactic acid (PLA) is a natural plastic substitute made from fermented plant starch (usually corn). It is an eco-friendly, renewably-sourced and biodegradable alternative to conventional petroleum-based plastics. The increased usage of PLA will reduce the carbon footprint of many industries. This non-toxic green material can be used for all kinds of products: from grocery shopping bags to reusable tumblers.
Organic Cotton
Cotton is a sustainable material. Cotton is a soft, staple fibre that comes from the cotton plant. It has many advantages: it is gentle and comfortable to wear. It is also a hypoallergenic, durable fabric. Cotton can be easily coloured using eco-friendly dyes, producing an ever-increasing range of colours, which can be printed with your company logo and message. Aim to buy 100% organically grown cotton, with the OEKO-TEX industry standard, which allows you to make responsible decisions and protect natural resources.
rPET
rPET is PET plastic that has been recycled, reprocessed and made into something new. PET is one of the most prevalent plastics in our lives. Common examples of PET range from food and beverage bottles and other packaging. Recycled PET (rPET) gives a new life to an already made product rather than using virgin resin. rPet products can be seen as having a reduced environmental impact. Many recycled promotional products are made from rPET, including plastic bottles, activewear and outdoor gear.
Recycled stone
Stone paper is a revolutionary limestone material, a naturally occurring resource. Not only because of its environmentally friendly manufacturing method, it is a real alternative to the usual materials such as paper or plastic, and the elegant appearance makes your advertising materials a complete success. The popular Karst Stone Paper Notebook is made from 100% sustainably recycled stone, and without any bleaches or acids.
Biodegradable plastic
Many branded promotional pens and tech products are now made from biodegradable plastics. While these products must be disassembled at the end of their life and recycled correctly, their components and packaging are usually made from recycled, or recyclable material and the products are designed to reduce waste.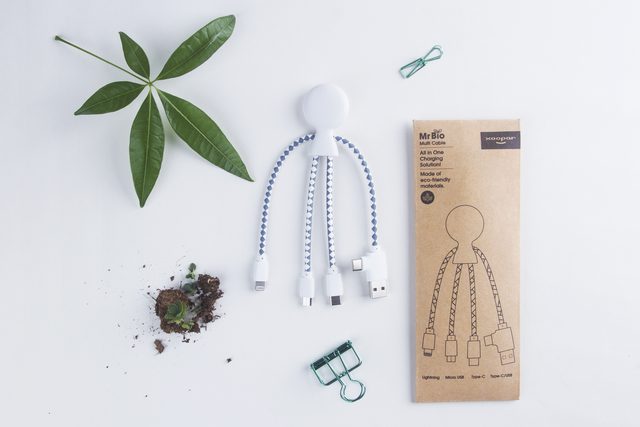 Choose sustainable promotional products
At Gift Innovations, we offer a wide range of branded promotional products made from natural, recycled and biodegradable materials. All can be effectively branded with your logo and message. Let us help you to make the right decision with sustainable promotional products. To discuss your specific needs, contact us at Gift Innovations.