Unique Employee Onboarding Box Ideas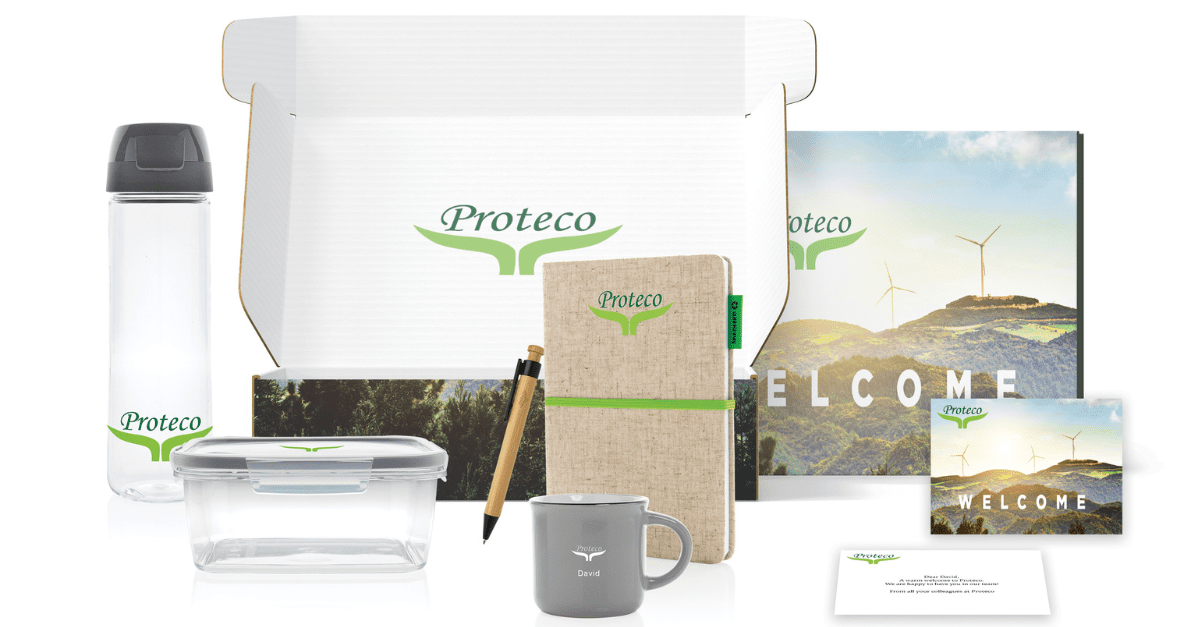 10 Unique Employee Onboarding Box Ideas
The gift of an employee onboarding box gives a warm, sincere welcome to your new staff. It reflects your culture and easily becomes part of your onboarding process. A bespoke swag box makes a great first impression on new staff while giving a positive introduction to your brand.
Onboarding gifts are especially useful when building hybrid and home-based work teams. Welcome packs for new employees bring people together – regardless of distance, as they start their careers with your company. Companies recognise the benefits of employee welcome packs and have made them part of their onboarding strategy.
Welcome packs for new employees!
Employee swag kits are corporate-branded gift boxes, packed with onboarding gifts. Products are practical gifts and goodies that staff will use and enjoy. Both the packaging and promo products are designed to reflect your brand guidelines. We also suggest you include an A6 card with a message from the CEO. The message offers a personal welcome and explains the company's culture that will sustain them in their career.
Sustainable onboarding gifts
With sustainability in mind, the gifts and packaging are manufactured from quality, sustainable materials, which are recyclable at the end of their life. Initiatives to promote sustainability in the workplace attract new, and especially younger staff. Increasingly, the workforce wants to see sustainability initiatives embedded in their company culture. On their first day, your onboarding gift will connect new staff with your sustainability culture.
Onboarding kit ideas
Here are 10 onboarding gifts that we recommend when putting together your employee welcome packs. All can be branded with your logo and message. They can be sent to your HQ or individually, to home addresses. As a bonus, we've included 4 other things to consider when putting your packs together.
Branded water bottles
Concentration levels suffer if you are not hydrated. We offer a large range of branded water bottles in recycled plastic, glass, and metal. Plastic bottles can be printed in one or multiple colours. Metal bottles can also be printed, and also laser etched, which offers a very stylish alternative to colour printing.
Branded travel mugs and cups
Add a hard-wearing, branded travel mug to your corporate-branded gift boxes. Cups can be branded or pantone matched to your brand colours and make a great gift for new employees – and can also be used as a clever gift for clients. Mugs can be made from pottery, glass or from metal – so lots of choices with plenty of branding options for you to choose from.
Branded pens
Quality branded pens are made from recycled materials and are recyclable at the end of life. Ask: are pens supplied with extra ink refills? Will they write for 500 metres or 5 kilometres? Does your branding look good on them? Quality pens in staff appreciation boxes look good and are used. Some companies choose to give their clients the gift of a special high-end pen when signing contracts or on a landmark occasion.
Branded notebooks
Notebooks come in a wide range of designs and materials. They can be printed in full colour, in a single colour, or debossed. A5 branded notebooks are the best fit for swag boxes and easily pop into laptop bags and handbags. Notebook materials include cardboard, leather, coffee grounds, and apple pulp fibre. The more sustainable choices are popular and showcase your culture.
Branded tote bags
Branded tote bags are very handy for bringing lunch into work, carrying paperwork, or popping out for messages. There are many sustainable materials, styles, and colour options to choose from. They also have great space to print your logo together with a message or image.
Branded rucksack
If new employees are travelling for work, a quality branded rucksack or laptop bag advertises your company to clients. If staff are hybrid workers, a quality rucksack or laptop bag transports their laptop and other homeworking kit safely to the office.
Branded tech gifts
Quality branded tech gifts are easily included in an onboarding pack. They are great to use when reaching out to customers as well. You can include a mobile charging cable, a phone stand or a branded power bank in the welcome pack. If new employees are at home and making calls a comfortable Bluetooth headset makes good sense.
Branded lunchbox
A branded lunchbox or cooler bag encourages new hires to bring their own food to work. It gives staff the freedom to support their own dietary needs. A lunch box can hold a sandwich, a salad or delicious dinner leftovers. A cooler bag can hold drinks and a lunchbox encourage staff to picnic outside.
Branded umbrella
Umbrellas are always welcome – especially in Ireland! They also offer adequate space for branding and messages. Choose a folding version to include in a welcome pack for new employees. Existing staff can be given a larger golf or walking umbrella, which matches your colours. Branded umbrellas are a very effective form of marketing and make great giveaways to current and potential clients. It always gives you a buzz when you see one of your umbrellas at a sporting event or in the background on a TV programme.
A CEO welcome message
A card or note of welcome from the CEO always goes down well with new staff. It also gives the CEO an early opportunity to set your cultural tone. You write it, we print it and pop it into your welcome packs, ready for distribution.
Custom branded boxes
You may want your onboarding gifts to be contained in custom branded boxes. This may include a custom-designed and printed outer and inner box. It can also be filled with company-branded tissue paper in one of your brand colours. You may want a plain white box with a discreet logo or a printed sleeve. We collaborate with you to find the best solution for your packaging requirements and budget.
Storage and fulfilment of employee onboarding packs
Gift Innovations offers its clients storage and fulfilment options. We order individual, branded products, which we store in our warehouse. We then pack and send them out, on-demand, to your HQ company address or to an individual's home address, wherever they call home.
Staff appreciation box
Gift packs are also available to celebrate the birth of a child, for staff retirements, or to celebrate a company anniversary or big win! We bundle gifts and goodies and deliver bespoke appreciation packs directly to your employees and customers. Appreciation packs can also be sent out altogether or stored and sent out on demand. Packs can also be prepared for other occasions such as conferences, and for national and international meetings.
And finally
Whether you want onboarding swag boxes, holiday gift boxes or well-being gifts, you need a partner who knows how to pull it all together for you. Gift Innovations is a corporate gifting company with the ability, intuitive tools, and range of onboarding gifts, which create a deep, lasting first impression. Contact us by email info@giftinnovations.ie or call 061 306006.