Christmas Corporate Gifts
Corporate gifting has the ability to connect and build relationships. Receiving a gift is a wonderful experience; it helps create a deeper connection and shows the recipient that you appreciate them. Christmas is a time when companies traditionally thank their employees and customers with a gift. After all, these are the people that have supported you and helped your business succeed.
As the festive season approaches, Gift Innovations can help you to plan and implement a successful Christmas gift campaign. Here are some of our popular Christmas Corporate Gifts options for your employees and customers:
Choice of Gifts on RewardNet
Christmas is an ideal time to thank employees for their contribution during the year. However, choosing a gift to suit everyone can be stressful. It doesn't have to be that way when you offer employees a large choice that matches their needs. RewardNet, the rewards portal from Gift Innovations, enables your employees to choose from an array of premium employee gifts, from smart devices and household gifts to Irish-designed products, on your branded Christmas portal.
Employees receive a personalised email containing your Christmas message and unique login details to access your customised gift portal on RewardNet. Employees can enjoy browsing the online catalogue and choosing gift options with their points allocation. If you want the gifts delivered to home addresses, RewardNet can prompt employees to insert their home delivery address. We can also facilitate charity gifting by including your company-nominated charity as a Christmas gift option along with the range of gifts on RewardNet.
Are you missing out on the many generous tax-free benefits of gift-giving? Revenue now allows up to two non-cash benefits (including gifts) per employee, per annum, up to €1000 (PAYE, PRSI, USC need not be applied to the benefit): Benefit in Kind
Appreciation Packs
Show your customers and employees how much you care with our curated appreciation packs. We bundle gifts and goodies and deliver appreciation packs worldwide. Choose your preferred gifts; from products branded with your logo, premium brand gifts and hand-made Irish crafts. Then add the goodies; from Skelligs Chocolates, Wildes Irish Chocolates, Lismore Biscuits and Ponaire Coffee. Company sentiments are elevated further by messages and packaging with your branding and season's greeting.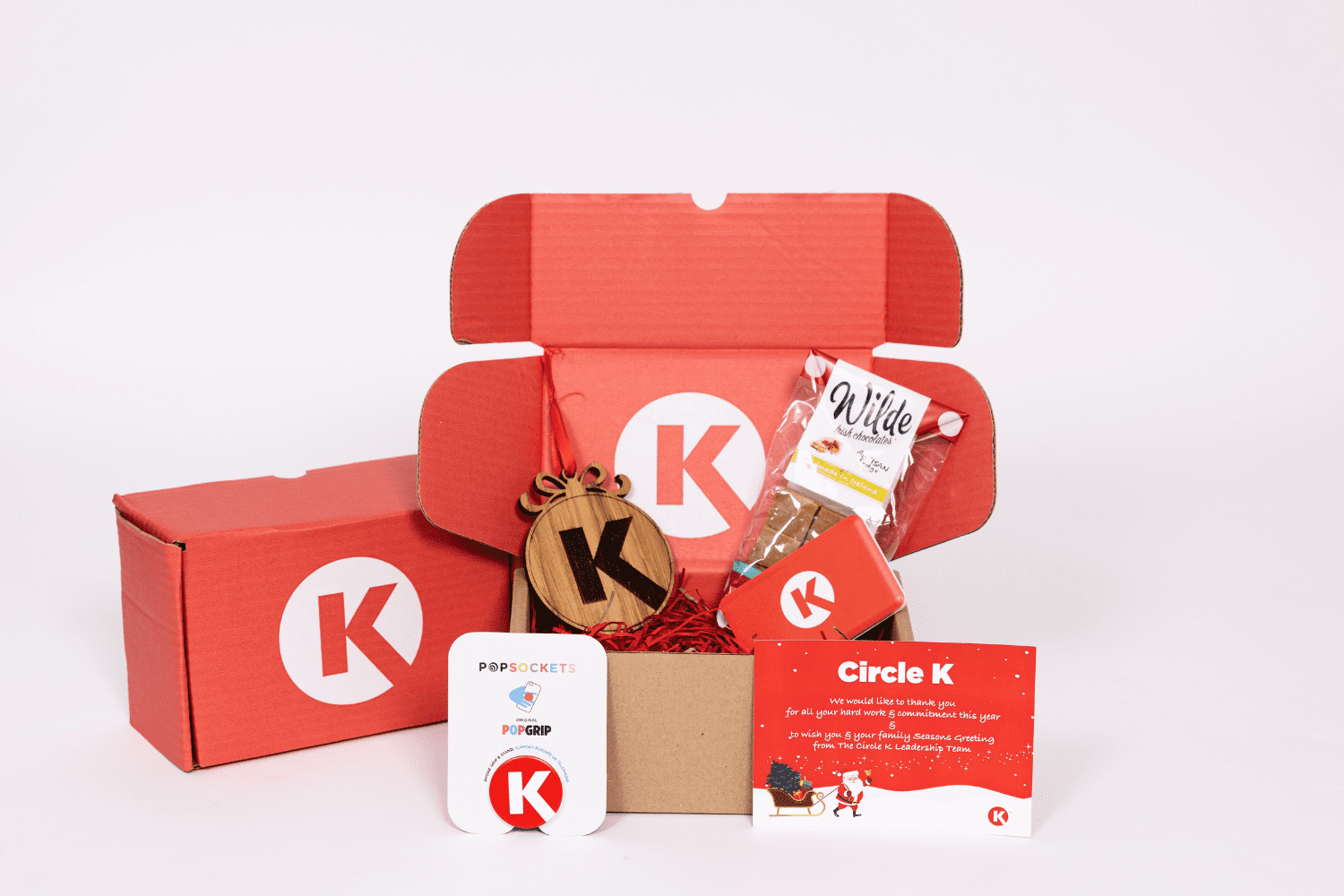 Promotional Products
With quality promotional products, you can give fabulous gifts to your customers and employees, while promoting your brand. We listen to your needs, get to know your brand and combine our creativity with years of experience to source the best promotional products for you. From premium umbrellas and rucksacks to exquisite notebooks and pens, these gifts are branded with your logo and speak volumes about your brand. We offer an extensive range of quality promotional products, including on eco-friendly options.
Letterbox Gifts
We're living in an increasingly digital age, so receiving an unexpected Christmas card or gift in the post is so exciting! Letterbox gifts are a convenient and cost-effective way of sending gifts to customers and employees. We include small items in the postal box (210 x 145 x 22mm box) such as company-branded phone accessories, notebooks & pens and artisan chocolate bars. We also include professionally printed leaflets or postcards with your branding and festive message. Letterbox gifts are delivered via An Post postal service.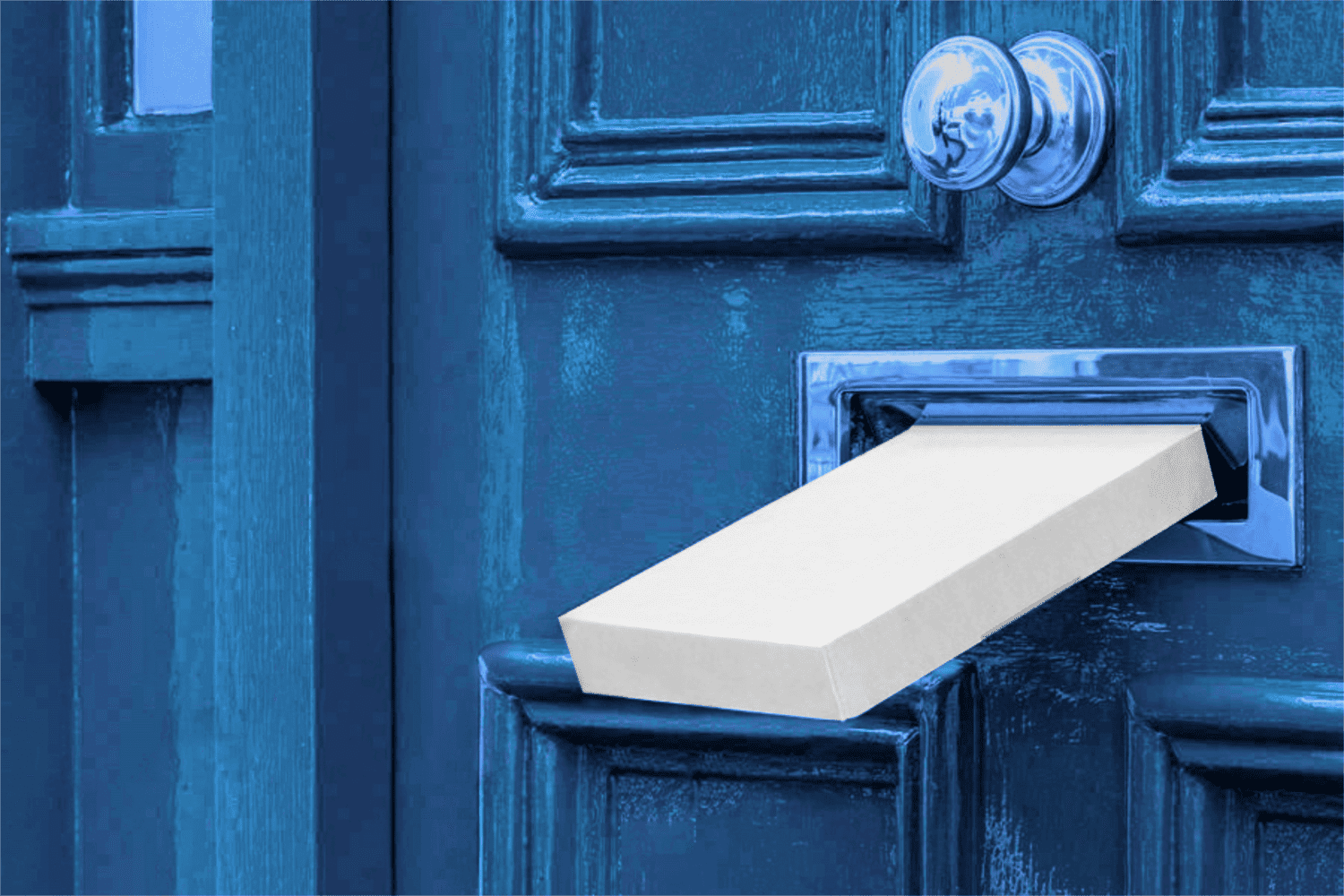 Irish Corporate Gifts
Customers and employees love to receive unique Irish-made gifts. Ireland has always been a haven for designers and makers, and the desire for Irish products has exploded recently. Foxford Woollen Mills, The Hand Made Soap Company, Nicholas Mosse Pottery, Garrett Mallon Jewellery, Green Angel, Max Benjamin, Millbee and Caulfield Wooden Boards are just a selection of brands produced in Ireland. We are proud to feature Made in Ireland products on RewardNet, our rewards portal. Irish-made corporate gifts can also be purchased in bulk with good discounts.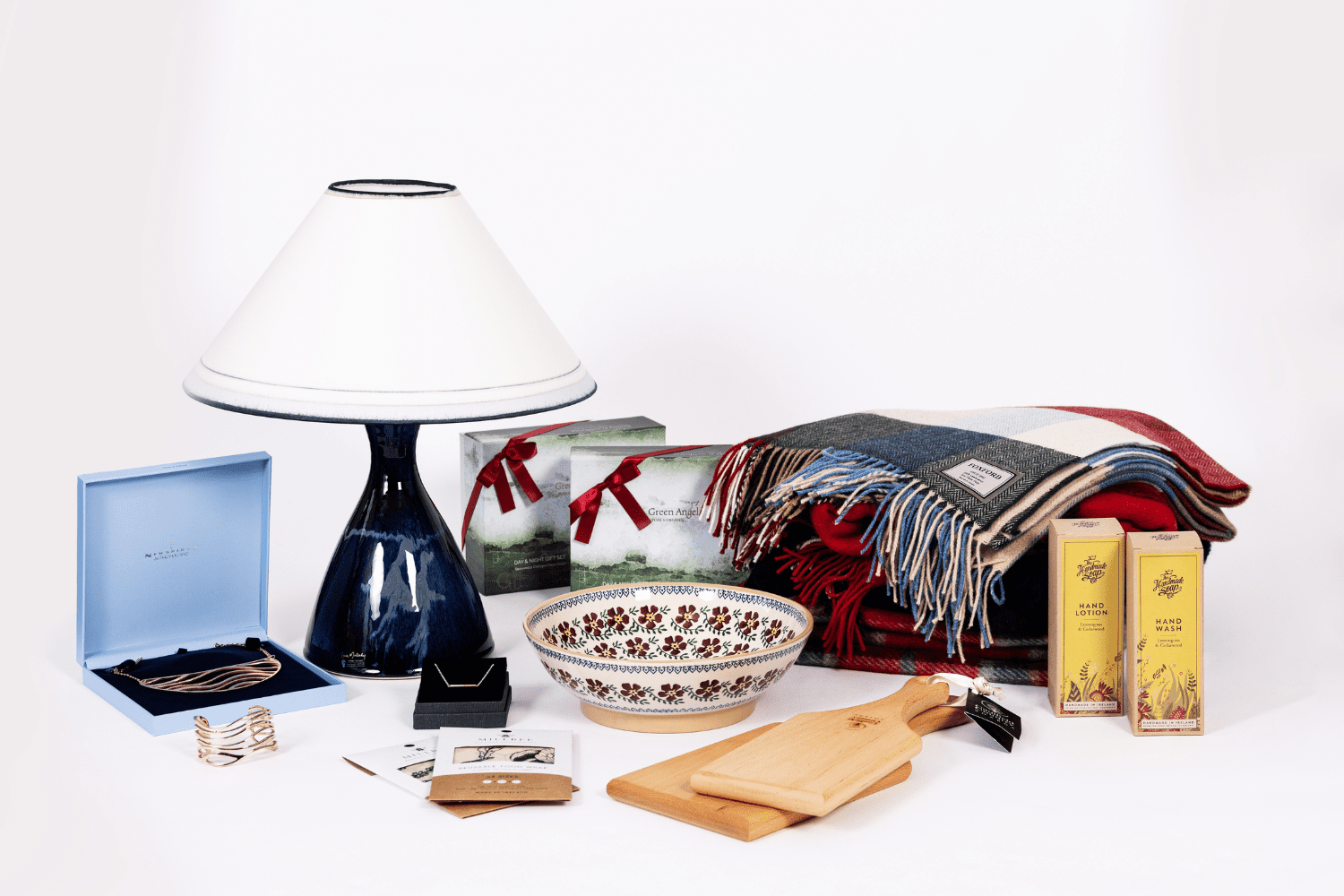 New Year Gifts
Christmas is a wonderful time of year, however, the lead-up to Christmas can be a stressful time. Between closing out end-of year work projects, going to Christmas parties, organising family gatherings and preparing for Santa, some companies are opting to send New Year gifts instead. The New Year represents renewed hope and fresh challenges. Receiving a thoughtful gift and message during the early days of January will improve employee morale and help build customer loyalty for the year ahead. It will bring a smile to their face and help beat those January blues!
To Wrap it Up
It's essential to thank your employees and customers for their hard work and trust over the past year. Not only is it a fantastic way to promote your business. Your employees will be grateful to come through the doors in January and your customers will remember you in the year ahead.
With over 20 years' experience in sourcing and supplying gifts to companies, the team at Gift Innovations can help you find the perfect Christmas Corporate Gifts for your employees and customers. We provide a creative and personal service from concept to storage and fulfilment and help implement successful Christmas gifting campaigns for our clients. Contact us today for a detailed proposal and get started!